İstanbul(Avr.), İstanbul(Asya)
İlan yayından kaldırılmıştır!
Years of Experience
No experience preference
Department
Research and Development (R&...
Research and Development...
Application Count
50 application
Job Type
Years of Experience
Application Count
Department
Research and Development (R&D)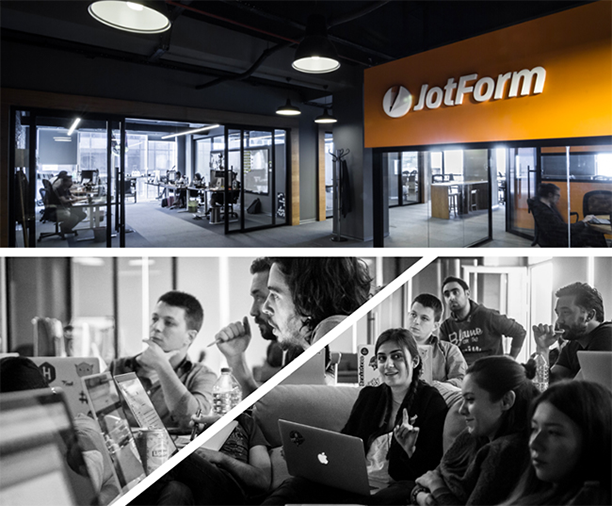 QUALIFICATIONS AND JOB DESCRIPTION
ABOUT Jotform
Jotform is a San Francisco-based SaaS company with more than 15 million users worldwide. We are thriving and growing, and we've never needed outside funding. That's because we like keeping things agile, independent and fun. Jotform believes everyone should be able to create their own online forms. Our 10,000+ ready-made form templates, 100+ integrations and more than 380 widgets have made us one of the most popular online form builders for organizations of all sizes — from small businesses to enterprises.
Since our inception in 2006, our mission has been to help users create, manage and share online forms and receive responses in the easiest way possible.
COVID-19 Safety Measure - Recruiting
Jotform continues to create new positions and hire new staff during the coronavirus pandemic. We care about the health and safety of our staff and our candidates, so we have implemented virtual hiring processes.
ABOUT THE ROLE
Jotform is seeking DevOps Engineers in our brand new Istanbul office! We are looking for DevOps Engineers who have an interest in system administration and cloud computing management for a web service that serves more than 15 Million users. As a rapidly growing company we are hiring for similar positions continuously and once an opportunity matches with your qualifications, we will contact you immediately.
Here's what you will be doing:
Installing, maintaining and monitoring server side operations and applications
Maintaining and monitoring application/web servers performance and security
Caring about security and keep our Linux servers up-to-date
Setting up backups and database replications
Managing Continuous Integration/Deployment System for our web app
Providing support to our end users with related servers issues and writing documentation
Writing cloud computing management scripts such as Amazon EC2, S3, CloudFront and Google Cloud
Education & Work Experience & Technical Requirements:

BS Degree in Computer Science/Engineering or in a related technical field or equivalent practical experience
Expertise in Linux system administration
Experience or at least high understanding in Cloud computing, high availability and high performance
Being able to demonstrate experience in the following areas: Operating Systems: Linux (Ubuntu and Debian) and Databases: MySQL, Redis, MongoDB and Web Servers: Nginx, PHP-FPM and Cloud Computing: Google Cloud, Amazon Web Services, Rackspace Cloud and Programming Languages : Bash scripting, PHP, Python and Go Lang and Puppet, Gearman
Working experience with CI/CD and related tools like Git and Jenkins
Excellent written communication skills in English
Experience in system design, sizing, provisioning and implementation
Personal Specifications/Skills:


Demonstrated ability to work independently with minimal supervision
Being familiar with high stress situations without losing passion or motivation
Passion of learning and discovering new technologies
Jotform PERKS


High growth-paced environment with collaborative and unique team culture
Generous market competitive total compensation package
Health Insurance
Professional Growth & Career Opportunities: We support your personal and professional development with educational materials and expenses & relevant conferences abroad to stay up to date with the latest industry trends & online courses or coaching - and support you pursuing ones that you are passionate about!
Challenging projects, regular feedback, healthy competition
Fun & Relax working environment: When we're in the office; music, jeans and t-shirts are the norm & kitchens stocked with healthy & tasty snacks & drinks
OUR PROCESS
We'll review your application along with all the others we receive and pick the top profiles for a screening call. In many cases due to time constraints and our candidate volume, only the short-listed candidates are contacted but we do consider each application carefully. If you have been selected as a short-listed candidate, we will contact you for a short screening call to get to know you better. If you don't get a call, please don't be disappointed! We receive many applications for each role and have to prioritize who we speak to.
Thank you for taking the time to apply for a position at Jotform!
Jotform is an Equal Opportunity Employer. Employment decisions are made without regard to race, color, religion, national or ethnic origin, sex, sexual orientation, gender identity or expression, age, disability, protected veteran status or other characteristics protected by law.
English(Reading : Advanced, Writing : Advanced, Speaking : Advanced)
DevOps Uzmanı pozisyonu ile ilgili daha detaylı bilgi almak ya da diğer iş fırsatlarını incelemek için aşağıdaki sayfaları inceleyebilirsiniz.
DevOps Uzmanı İş İlanları
Yan Haklar
Özel Sağlık Sigortası, Yemek Kartı (Ticket, Multinet, Sodexo vb.).
JOTFORM YAZILIM A.Ş İş İlanları
DevOps Uzmanı pozisyonu ile ilgili daha detaylı bilgi almak ya da diğer iş fırsatlarını incelemek için aşağıdaki sayfaları inceleyebilirsiniz.
DevOps Uzmanı İş İlanları